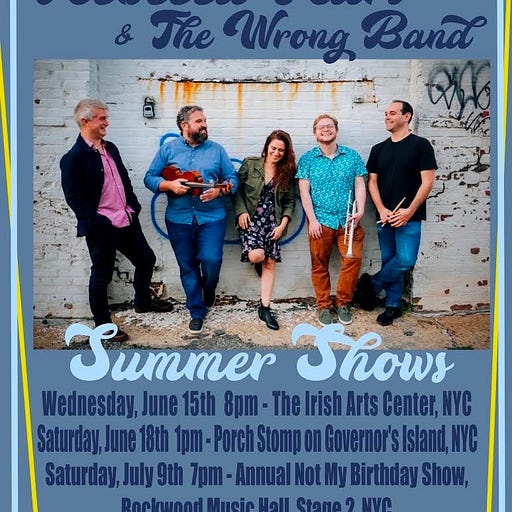 Jun 13 • 21M
reset and reboot (& free show this WED)
in which we sing the praises of going away and coming back, enjoy some Chrysalis throwback audio, and remind you of the FREE gig this wednesday in manhattan
Hey Hartlist,
Missed you last week! I was away in Theatre Residency Land (aka summer camp for adults) and skipped writing to you entirely. I promise I won't make a habit of it.
Then again, Dolly Parton once said that the secret to a happy marriage was to 'stay gone'.
---
JUST THE GIGS MA'AM
The first two shows are FREE and ALL AGES. Rockwood will also welcome under-age guests to my birthday party, if accompanied. Just reach out to me beforehand and I'll set you up!

Also: the next THE CHRYSALIS livestream set, #63, will be JUNE 26 on Youtube, FB, and Insta.
---
I'm assuming "stay gone" is the Good Lyric version of what Dolly really means, which is something more akin to "absence makes the heart grow fonder" or "I love touring". But I think she has a point. This week for me had several instances of the sweetness of Return, the power of Time Away to shift perspective on and deepen one's relationship to The Thing, whatever it is.
This is especially true if, like me, you are prone to entirely forgetting whatever it was you did or made or had in the first place. Exhibit A: this week's audio, a throwback to The Chrysalis 52: MY CONDITION, the one-year anniversary show of The Chrysalis, recorded in September 2021. I just re-happened upon it this week while tidying my instagram (read: avoiding dishes.)
Also just spent 5 days on a Theatre Workshop Residency, aka Adult Summer Camp, and meet some brilliant people on a peaceful and quiet college campus and there were rabbits frolicking everywhere, you know, in lieu of rats. And .. wow, turns out I needed a break from NY. And now I'm glad to be back.
Also, I got to act. With people. In front of people. In a room. For the first time since 2019. For about 20 minutes. I didn't take a single one for granted.
Sometimes we are just plain too close to something to appreciate it, or even to know what's happening. With the exception of that one time in quarantine I'm 90% sure I heard a leaf open on one of my plants - we're never allowed to observe growth in the moment it takes place. We can only 'see' it by comparing Then and Now, and in order to do that we have to Leave and Come Back.
I'm not sharing Chrysalis 52 because it's the best thing I've ever made or sung or whatever, but because in listening again I was like hey this is actually pretty cool when at the time I was just like ok, 52 down, what's for dinner. But that's 52 weeks of picking themes, curating sets, learning songs, and performing, 4PM every Sunday, when in 2019 the word 'livestream' was not in my vocabulary and I really never learned cover songs for fun.

(If you prefer video, you can watch it here.)
The FREE GIG on Wednesday is our first concert since FEBRUARY… it will be great to Return.
Love
RH